Onboarding Applications to PureApplication System →
Good article series on onboarding your existing applications to Pure…
Summary of the IBM Keynote at JavaOne 2012 →
John Duimovich and I presented at the JavaOne keynote on Sunday night. Here is a summary of our presentation on the future and challenges to Java in today's environment.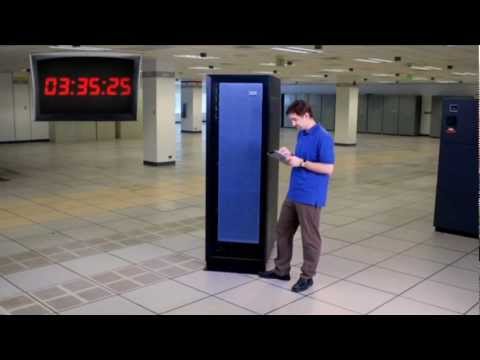 Watch
Well.. IMPACT 2012 is over… what an AMAZING week!  The buzz about PureApplication System has been incredible.  Check out my keynote demo from Day 1.  Fast forward to 1:35 to just watch the PureApplication System part. 
Expert Integrated Systems →
For the last few years I have been advocating, envisioning, and building toward the moment we are finally ready to announce. Tomorrow IBM will launch a new family of systems with integrated expertise. I have talked about the power of patterns, the power of patterns to capture and automate all of the knowledge and labor of enterprise application deployment and management. Tomorrow we will announce...
Cloud Scale Storage →
Great article on cloud scale storage architectures.
Watch
Here is the full version of the JavaOne keynote if you want to hear the entire thing…
Watch
Highlights from my JavaOne Keynote on the intersection of Java and Cloud Computing…
Java and Cloud at JavaOne
Just finished my keynote at JavaOne on Java and the Cloud. Great attendance. What do you think are the challenges running Java apps on the cloud?
Plugin Development Kit for IBM Workload Deployer →
We have launched the development kit for IBM Workload Deployer… and create a community where people can collaborate on extensions to IWD… check it out…
[DEMO] Introduction to Virtual Systems with IBM...
Part 4 in my video series… here I introduce the concepts of Virtual System in IBM Workload Deployer and how to deploy them to the cloud…  
[DEMO] Making your Application Elastic with IBM...
Part 3 in my series.. this one shows how to extend the simple application to make it elastic on the cloud with a Scaling Policy.  
[DEMO] Simple Application Deployment with IBM...
Part 2 in my video series.. this one shows how to deploy a simple application to the cloud with IBM Workload Deployer 3.0 Virtual Applications.  
[DEMO] Introduction to IBM Workload Deployer 3.0
To celebrate the launch of IBM Workload Deployer 3.0 I have started working on a series of demo movies showing the capabilities of the product. I am going to try to walk through all of the interesting new features of IWD in this series. So here you go, the first in the series, a basic introduction to the Workload Deployer user interface…  
Daring Fireball: It's All Software
Here's Pascal-Emmanuel Gobry, writing about iCloud: Here's how Google and Apple's vision of the cloud differ: for Google, the cloud means cloud + web; for Apple, cloud computing means cloud + software, with the internet stuff happening behind the scenes. via daringfireball.net Interesting article about Mobile and Cloud and the difference between Apple's and Google's vision of cloud...
Measuring the Performance of Your Cloud
As our customers continue their aggressive migration to shared resource environments in the form of Private Clouds, they are asking questions about measuring performance. via www.ibm.com Great blog entry by Jerry Cuomo on performance considerations for cloud, including a look at the key performance measurements that you should consider for a private, PaaS style cloud.
Beyond Initial Provisioning...
As we have been working on IBM Workload Deployer and the notion of workload patterns, one of the things that has been driving us is the idea that the cloud can help with more than initial provisioning. Many cloud systems are great for getting you up and running quickly.  You can deploy complex software quickly through images and automation around images. But after you get an application running on...
Internet security: Keys to the cloud castle | The...
CONSIDER the purchase of a home in two adjacent gated communities. Both have houses with truly impregnable locks. In one community, whenever you need to enter your house, you visit the management office and show your driving licence. A guard walks you to your home, and lets you in using the master key that opens every door lock in the community. You can stay inside indefinitely. If an employee...
Amazon EC2 Outage Summary
Great summary from Amazon on the root cause of the recent EC2 outage… http://aws.amazon.com/message/65648/
IBM Workload Deployer
So I thought I would start with a few comments about what I have been working on for the past year and half…. At IMPACT 2011 in Las Vegas a couple of weeks ago IBM announced a new product calledIBM Workload Deployer v3.0 (IWD).  Workload Deployer is a major update to the WebSphere Cloudburst Appliance (WCA) product, targetted at helping companies create privately run on-premise clouds that...
Getting Started...
Well.. I figured it was about time I got serious about blogging about cloud… after spending the last year and a half working toward my vision of platform style clouds both on prem and in the public sphere, I figure it is time to start writing about it…  I am not sure how this will evolve but the idea is to share my thoughts about cloud and applications on the cloud and interesting...
Workload Deployer Demo at IMPACT 2011
While at IMPACT 2011 in Las Vegas a couple of weeks ago Jerry Cuomo and I did a presentation on the 10 Attributes of Cloud Computing and IBM Workload Deployer. In this session I walked through a demo of some of the key ideas in Workload Deployer. Check out the Cloud Mini-Main-tent and let me know what you think…  skip to 1:05:15 in the video to get to the good stuff.  Watch live streaming...